Centre of Technics and Industrial Design "Engineering Arsenal" is the largest exhibition of motorized vehicles in the whole Latgale region. It is a unique exhibition space of retro technology and applied design, which is located in the historic 19th-century building of the Daugavpils Fortress.
Four exhibition sectors await its visitors with a total area of 2500 sq.m.: history of industrial design and special vehicles, Soviet vehicles, motor vehicles, and western retro car sectors. In total, the centre houses more than 30 retro cars, more than 75 motorcycles, and mopeds, a large number of accessories, and car and moto models. A special role is dedicated to the industrial heritage of Daugavpils. Together it all forms a story about the development of technology and design in the region, Latvia, and the world in total.
The centre offers:
Acquaintance with retro technique and design objects in three languages – permanent and temporary exhibitions;
Guided tours (in Latvian, Russian, Latgalian, and English);
Free visit of the courtyard of the "Engineering Arsenal";
Area for master classes and thematic events.
The impressive two-storey building of the engineer arsenal was built by architect Alexander Shtaubert in 1840-1845. The building is an architectural monument of State significance. The engineer arsenal was used to make and repair armament supplies, tooling for fortification and combat engineer measures. The building housed paint, carpenter, wheel, turners, woodworking, locksmiths, casting, drawing, pattern, and other shops.  After a wide restoration, the centre is used for exhibitions, thematic events, and concerts.
Opening hours:
I – closed
II – closed
III – 10:00-19:00
IV– 10:00-19:00
V – 10:00-19:00
VI – 10:00-19:00
VII – 10:00-19:00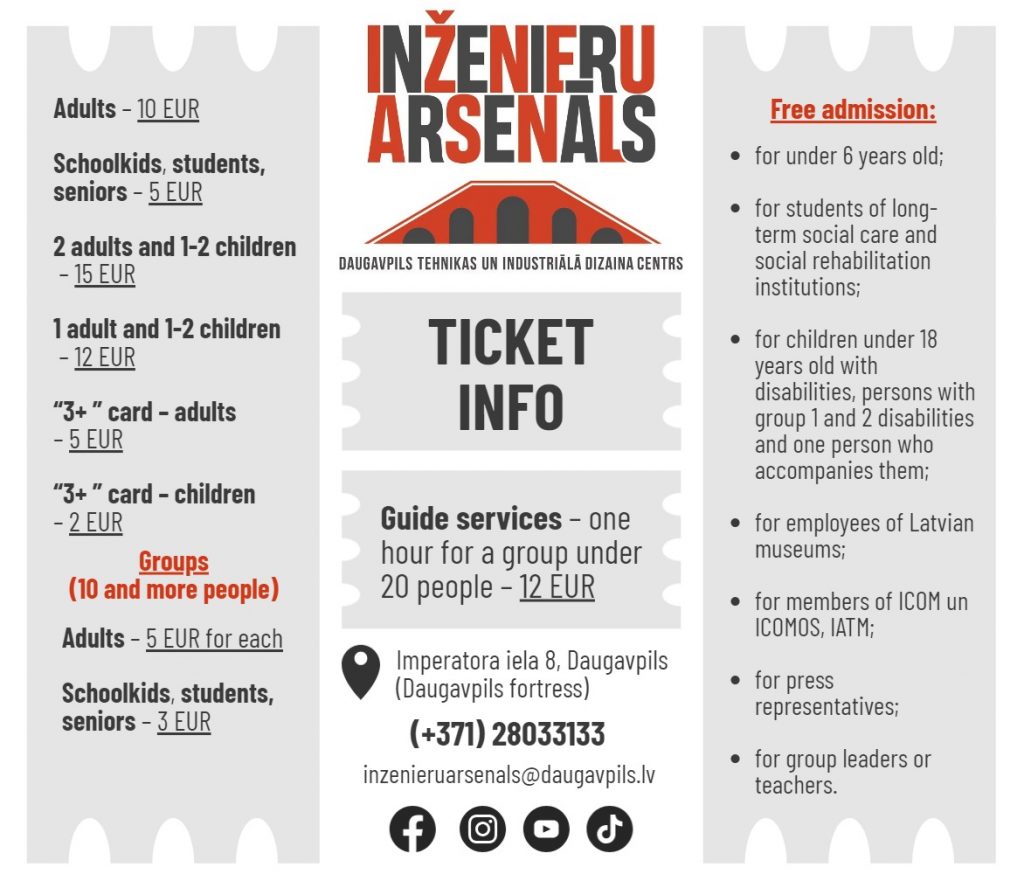 YouTube: www.youtube.com/@inzenieruarsenals
TikTok: www.tiktok.com/@inzenieru_arsenals