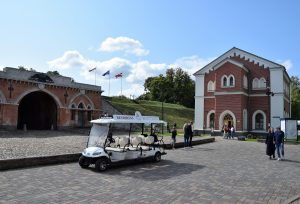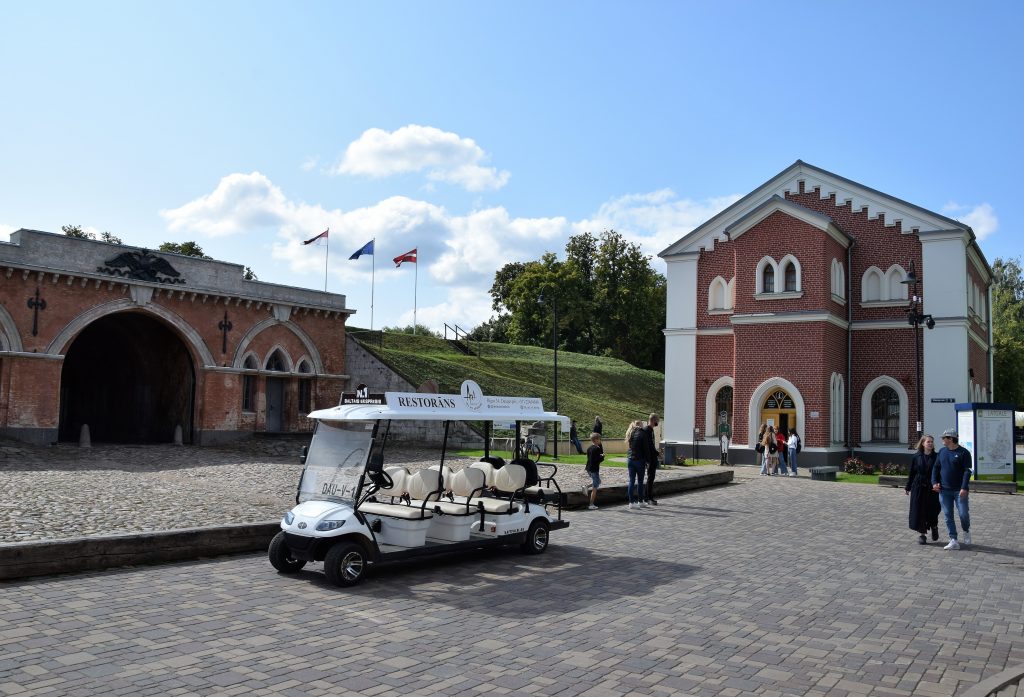 The creators of the Museum of the World War I "Pie Komendanta" offer sightseeing tours in Daugavpils Fortress on an electric bus. During the trip, guests and residents of the city will be introduced to the most interesting and significant objects of Daugavpils Fortress and their history. The route leads through the streets of Daugavpils Fortress and includes such objects as officers' houses, soldiers' barracks, military hospital building, fortress garden, powder magazines, memorial sites, casemates, fortress gates, fortifications, and much more. During the trip some recently restored objects in the fortress can be seen, such as Daugavpils Mark Rothko Art Centre, Nicholas Gates, water lifting house, Commandant's House etc. places. There are stops during the tour and you can go for a walk to see the fortifications of the fortress.
In total, 7 passengers can go on the tour at the same time and the duration of the trip is about 40-50 minutes. It is possible to see the places that are not usually visited by tourists. It is a very comfortable and compact car that is suitable for elderly people and people with special needs who find it difficult to get around the entire fortress on foot. It is also well suited for those travellers who have little free time, but who want to see as many places in the fortress as possible.
The price of the guided tour in Daugavpils Fortress on the electric bus is 5 EUR per person and it lasts about 40-50 min. It is also possible to visit the Museum of the World War I "Pie Komendanta" and go on a tour in Daugavpils Fortress on the electric bus. The price of this offer is 10 EUR per person (duration – 2 hours).
Tours on the electric bus are available from 10 am to 6 pm on Saturdays and Sundays, other days by prior arrangement by phone +371 29244651. The tour usually starts at the square near Daugavpils Fortress Culture and Information Centre, 5 Nikolaja Street. Tours are offered in Latvian and Russian languages.