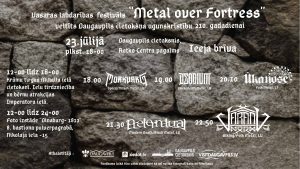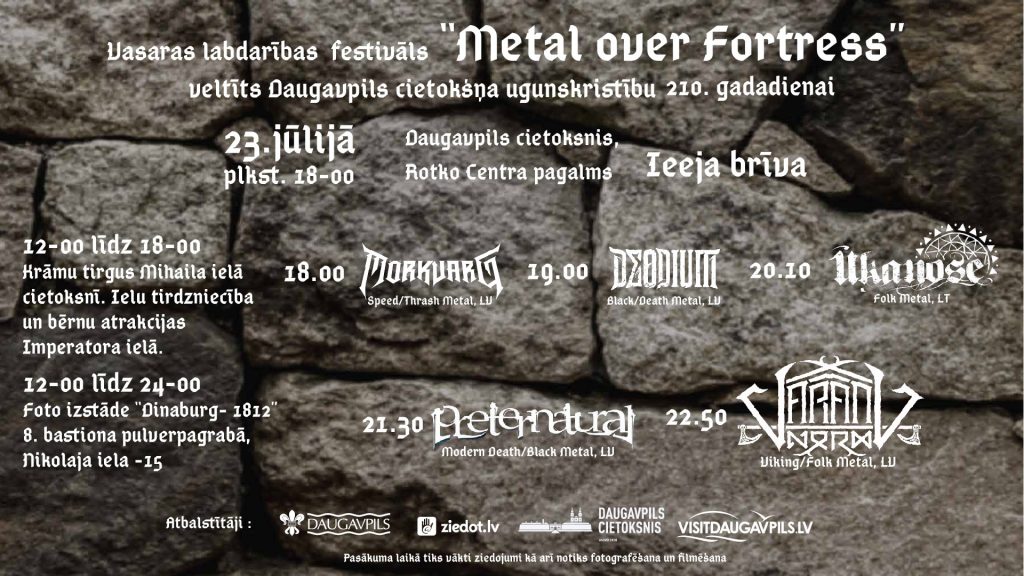 On July 23, the summer charity festival "Metal over Fortress" will be held in Daugavpils Fortress. The event is dedicated to the 210th anniversary of the baptism by fire of Daugavpils Fortress.
210 years ago the unfinished Daugavpils (at that time Dinaburg) fortress repelled the attack of the 10th Corps of the Grand Army under the command of Marshal Oudinot.
The event is an unusual experiment for our fortress. This year, the walls made of stones will be tested for adhesion to "heavy metal".
Remembering the wars of the fortress and the whole Daugavpils city, and the destruction caused by them for many centuries, this time the festival is organized precisely as a charity event. During the concerts, everyone will have the opportunity to donate the desired amount. The collected funds will be used to help people injured during the hostilities.
The festival day will begin as early as noon. Throughout Mihaila Street, from 12 noon to 6 pm there will be a traditional flea market, where everyone can find something interesting and unique for themselves. In addition, on Emperor Street, food stalls and entertainment for children will be located.
From noon to midnight, there will be an opportunity to visit the powder cellar of the 8th bastion, in which the photo exhibition "Dinaburg 1812" will be available. The exhibition is dedicated to the festival of historical reconstruction in the fortress.
In the evening, from 6 pm to midnight, the fortress will be shaken by heavy music. Five different bands will perform during the concert: Varang Nord, Deodium, Preternatural, Úkanose, and Mórkvarg.
We invite everyone to take part in this unique event!
The festival is organized by the Daugavpils City Municipality Tourism Development and Information Agency.
More information:
Daugavpils fortress culture and information centre
Tel.: +371 65424043, +371 28686331
cietoksnis@daugavpils.lv
https://www.facebook.com/daugavpils.cietoksnis