The main advantage of the restaurant "PLAZA" is the unique panorama view of Daugavpils city from the perspective of the bird's flight, because it is placed on the "Park Hotel Latgola" 10th floor. The quiet, leisurely atmosphere, the original interior, attentive service and dainty dishes will favor every client with unforgettable moments.
The restaurant can receive up to 100 people at once, therefore it is a perfect choice for organization of corporate parties, balls, wedding festivities and other social activities.
Restaurant "PLAZA" every workday from 12 pm till 3 pm offers a business lunch.
Restaurant "PLAZA" gives a great opportunity for gourmets to pamper themselves, because skillful chefs of the restaurant have prepared a new menu. You will find tested values and interesting experiments from the world of taste in it.
Restaurant menu offers also traditional Latvian and Latgalian dishes – curd cake, potatoes pancakes, cabbage soup with cep, potatoes dumplings with spek – and a lot of other delicious dishes from the special menu. Aromatic and healthy herbal tea, as well as stronger drinks from Latgale region.
Hot salad with zander "Daugavas loki"
Salad mix, cucumber, cherry tomatoes, lemon dressing (olive oil, lemon juice, mustard, sugar, salt), zander fillet, garlic, salt, pepper.
The basin of Daugava river has plenty of freshwater fish. But various herbs can be found on banks of Daugava, which may be used also for cooking. When the fishermen brought the catch, hostesses just had to cook tasty food. In its turn, in the 17th century, Jesuits settled down in the city. Jesuits have a special role in cooking traditions' development, introducing new products from other foreign missions or teaching new ways of cooking. Jesuits enriched their rather simple food with various spices! That is why salads "Daugavas loki" have some foreign ingredients.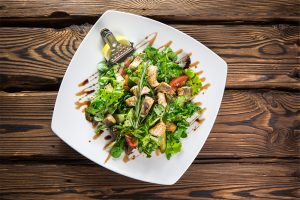 Eel tartar "Dvinsk Fortress"
Smoked eel fillet, cucumber, salt, pepper, ruccola (looks like dandelion leaves), greens, cherry tomatoes, balsamic cream (red wine, balsamic vinegar, sugar), red onion, canned capers.
Eel tartar is symbolically similar to a fortress – its ingredients are put one on each other making a tasty snack. In its turn, eel appearance can be equated to Daugava river, which entwines one side of the fortress. Eel is a comparatively rare fish nowadays. If eels are not disturbed by greedy fish and people, they manage to live even 35 years. The delicious and fat eel is a nourishing food. Eel might be symbolically compared to Daugavpils fortress – substantial, strong and long-liver.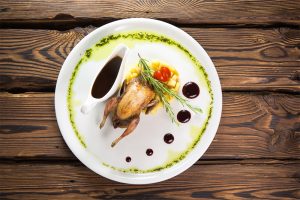 Quails "Dubrovina" with sour-sweet sauce of salted apples
Quail meat, salt, pepper, honey, vegetable oil, apples, salt, dairy butter, demi-glace sauce – balsamic vinegar, sugar, dairy butter.
In 1882 the mayor of Dinaburg Pavel Dubrovin made an arrangement about the town park. He personally followed the process of establishment and sometimes it was the reason he missed his lunch. Seeing this, the workers dared to invite Pavel Dubrovin to join them during their meal. The mayor did not refuse. He really enjoyed the food offered – quails with vegetables. The story of cooperative lunch with the town mayor has been retold among the workers for a long time since then.
Opening hours:
Sunday – Thursday: 12 pm – 10 am
Friday – Saturday: 12 pm – 12 am