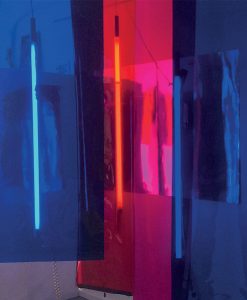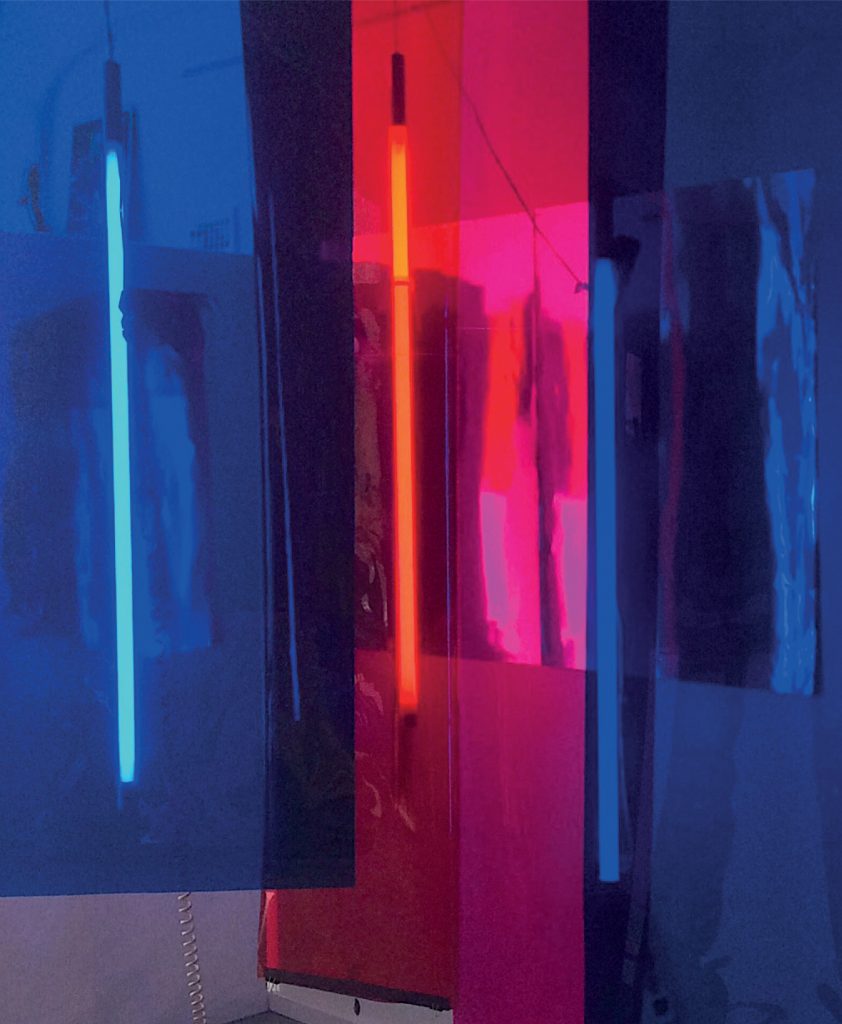 Date: 19.06.2021 - 22.08.2021
Time:
Place: Daugavpils Mark Rothko Art Centre courtyard, 3 Mihaila Street, Daugavpils
Daugavpils Mark Rothko Art Center has launched its new exhibition season, where artists explore the chromatic properties of light through different colors and media.
"The Color of Light: Utopian Abstractions" displays five artists' investigations into the color of light. Whether expressed through painting, drawing, photography, video, installation or sculpture, the effects of light, materials, color intensity and hue, subject matter, inspiration, latitude and climate all affect the outcome of the abstract images presented.  The artists are united by their dedication to abstraction, pure color and form.
To quote from the co-curators of the show, Dianne Beal (USA) and Barbara Bodart (France): "The Covid-19 pandemic put a halt to individual travel and travelling exhibitions, and so the fact that these works are now on exhibit at the Rothko Center is cause for applauding the determination and professionalism of the artists and our fellow collaborators. The utopian dream of creating this exhibition has finally become a reality. As light beams travel across the globe, the wavelength of the light changes, but the frequency remains constant. The exhibition embodies these qualities of light and brings us together to appreciate the power of art."
Much like the abstract expressionist painters of the 1940s and 50s, such as Mark Rothko, Barnett Newman, Joseph Albers or Adolph Gottlieb, each of the artists represented allow subjective emotional expression to exist through creative spontaneous acts. Thus, the contemporary artists included in this exhibition present their own bold interpretations of color. Julie Wolfe (Washington, DC, USA) investigates color and form, the beauty of nature and its destruction in her paintings, prints, drawings and sculptural objects. Go Segawa (Paris region, France) begins with the notion of painting on a two-dimensional surface and then shifts the design to a three-dimensional object that gives the illusion of a form floating in space. Pascal Fancony (Uzés, France) has been using four primary colors of high saturation since the 2000s in his paintings, drawings, installations and objects. Anton Ginzburg (New York, NY, USA) uses music, video and light to address nature and technology by interweaving moments of reality with color field abstraction. Yves Ullens (Brussels, Belgium) expresses emotion and explores spontaneous feeling through his abstract photographs, installations, sculptures and design objects.
Daugavpils Mark Rothko Art Center is the starting point of the show's intended journey across half the planet. Available in Daugavpils in a brief flash of color until 22 August, it will continue to tour exhibition spaces in France to be followed by the USA in the upcoming year.
Exhibition partners:
Galerie Blue Square (USA), L'Association Art, Architecture & Territoire (AAT) (France), Daugavpils Mark Rothko Art Center (Latvia)
Supporters:
Daugavpils City Council, State Culture Capital Foundation, United States Embassy – Rīga, Axon Cable
Publicity photos:
Yves Ullens (Belgium) Square Variation #1, c-print mounted on diasec, 75 x 75 cm (x4), 2015;
Julie Wolfe (USA) Short Stories 3, steel, gouache and ink on found and deconstructed books, 45 x 16.5 x 8 cm, 2018;
Anton Ginzburg (USA) Ultraviolet, HD video, sound, 2015;
Go Segawa (France) Black Cube in Red, UV print on polycarbonate, varnish, 22 x 22 x 22 cm, 2020;
Pascal Fancony (France) Installation, gelatin film, neons, 200 x 250 x 300 cm, 2020.
Photo from the exhibition "The Color of Light: Utopian Abstractions" in Daugavpils Mark Rothko Art Center.
Information:
Daugavpils Mark Rothko Art Center