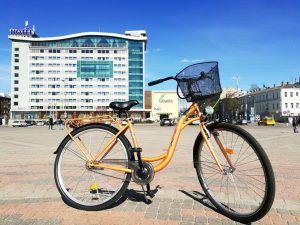 For enthusiasts of active recreation, the team of "Park Hotel Latgola" in collaboration with "VELODVINSK" has prepared a Seasonal offer how to explore the Daugavpils city!
For Daugavpils city  visitors  and its inhabitants' bicycle rental service is available at the heart of the Daugavpils city. Feel free to contact Park Hotel Latgola reception and agree that at a certain date and time the bicycle will be at your disposal. Then the freedom of choice is up to you: to take a ride and explore city for a couple of hours or to go for a longer trip for a whole day.
For detailed information, please contact Park Hotel Latgola reception.
Costs of bicycle rental service: 1 hour – 2,50 €, 1 day (8:00 – 21:00) – 8,00 €.
Information: Park Hotel Latgola, www.hotellatgola.lv