A wide range of meals. Gourmet main dishes, snacks, desserts, alcoholic and non-alcoholic beverages. Business lunches, anniversaries or any other kind of events can be organised there.
DAUGAVPILS MENU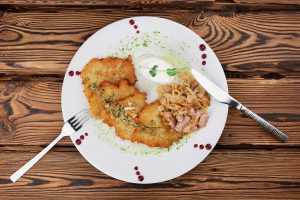 Potato pancakes with pork
pancakes / bacon / sour cream / herbs
Potatoes is the main food-stuff on every Latgalian's table. Throughout the history, potato pancakes have become a very popular dish. Till nowadays this dish unites people around a large and friendly table. They are served with sour cream, bacon and herbs both as a side dish or as the main dish.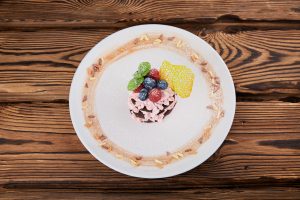 Dukes' dessert
chocolate / fresh berries / cream
In the Middle Ages, chocolate was used as medicine. And it inspired the cook to create a dessert that would improve one's mood in any weather conditions. Chocolate was a noble treat, and only Livonian dukes could enjoy it. Today this delicacy is available to every person, and it is the most attractive sweet in the world that is offered in the most varied ways. Chocolate, fresh berries and some airy cream are the main ingredients of the Dukes' dessert.
Opening hours:
Every day 10 am – 10 pm