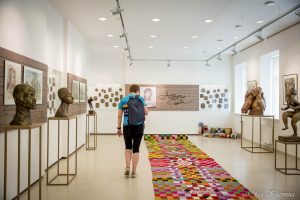 In order to ensure the availability of tourism statistics, Daugavpils District Tourism, Recreation and Culture Agency "TAKA" has collected and analyzed the statistical data on tourism situation in Daugavpils district. The active tourist season is considered to be the period from May to September. It should be noted that the active tourism season of this year was different from the usual seasons. The Covid-19 pandemic has introduced its adjustments worldwide, affecting the entire tourism industry.
In the 2nd and 3rd quarters of 2020, there were served 14, 460 foreign and Latvian travelers in tourist accommodation of Daugavpils district, who spent totally 17, 892 nights in guest houses and hotels of Daugavpils district. During the active tourism season of 2020, about 8863 travelers got acquainted with the wide range of tourism services of Daugavpils district museums and expositions.
Travelers followed self-protection and safety measures to limit the spread of Covid-19 infection, so in Daugavpils City Municipality Tourism Development and Information Agency were registered a larger number of information requests about nature objects, nature trails, recreational opportunities nearby lakes and mini zoos.
Statistical data show that the number of travelers, who visited nature objects, has increased. Electronic visitor flow meters have been installed in some nature objects of Daugavpils district, the data of which are read by the Nature Conservation Agency, Latgale Region Administration. For example, in the period from May to September, the Vasargeliski Sightseeing Tower was visited by 21,913 travelers, which is 42% more than last year, while the Dinaburg Castle trail was visited by 5,699 travelers during this year's active tourist season, which is 48% more than in the previous year, comparing with the same period last year. The Jaunsvente Manor Park and the shore of Lake Svente were visited by 11,811 travelers, which is 45% more than in this period in 2019. The boat rental service in Daugavpils district was also actively used, 2,800 boaters were registered. Travelers actively visited mini zoos. The owners of the mini zoo "JuRita" said that there is an increase of those, who visited the mini zoo. This year in Daugavpils district appeared the new mini zoo "Raptors Park", where visitors have the opportunity to get to know various animals and birds of prey.
In Daugavpils district appeared new tourism objects. The new camping "Daugavas lokos" was opened in the nature park "Daugavas loki", the new guest house-café "Kaķis krūzē" appeared in Līksna parish, as well as the already mentioned new mini zoo "Raptors Park" in Demene parish.
During the active tourism season, 9420 information requests were registered at Daugavpils Tourist Information Centre. The largest number of information requests was in June and August. In the first place were local information requesters (86% of the total number of Latvian and foreign information requesters), 14% were foreigners. This summer, Daugavpils Tourist Information Centre was visited by a large number of tourists from Lithuania and Estonia, both families with children and individual tourists, mostly traveling more than 1 day in Latgale, including Daugavpils and Daugavpils district, as well as nearby cities. Tourists asked not only about recreational opportunities, but also about restrictions on traveling and visiting public places.
In the 2020 tourism season, the number of users of the official website of Daugavpils Tourist Information Centre www.visitdaugavpils.lv has significantly increased (+13%). It means that during the tourism season of this year, people increasingly searched for information about Daugavpils and Daugavpils district in the Internet resources and used the tourism portal www.visitdaugavpils.lv as their holiday guide.