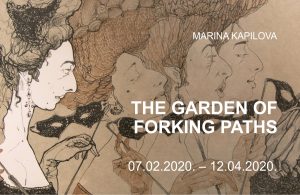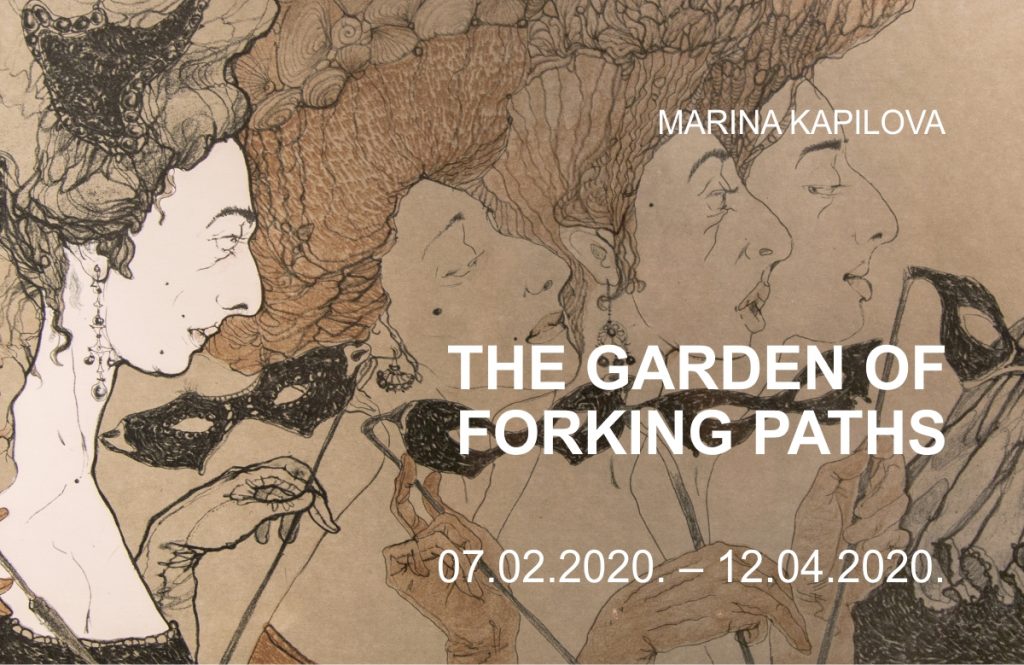 Date: 07.02.2020 - 12.04.2020
Time:
Place: Daugavpils Marka Rotko mākslas centrs, Mihaila iela 3, Daugavpils
Marina Kapilova's exhibition is titled "The Garden of Forking Paths" as a tribute to her favourite author, Jorge Luis Borges, and his beautiful homonymous story. 
"A broad rereading of the work confirmed the theory. In all fictional works, each time a man is confronted with several alternatives, he chooses one and eliminates the others; in the fiction of Ts'ui Pên, he chooses – simultaneously – all of them. He creates, in this way, diverse futures, diverse times which themselves also proliferate and fork."*
It is an epigraph, a title statement, a religion and a lifestyle. The author of the exhibition knows for certain that she will not have time for everything, because life is always short if a person lives it on a broad scale. And if personal thirst for life does not fit into the short span of time meted out to us, she will try to create her own infinity, adding layer upon layer. Then, in any of the endless layers of life, she can dart in whichever direction her numerous eyes will take her.
The contents of this exhibition is no more than an attempt to randomly pluck a few fragments from the multitude of her many-dimensional lives. The choice is exceedingly hard when one aches to pick everything, including the things still undone.
Kapilova was born in Minsk and continues to reside there. A graduate from Design Department of Belarusian State Institute of Theatre and Arts (now Academy of Arts), she calls herself a "renegade designer", because, although fully devoted to the ideas instilled in her during training, she has never worked in her profession. She lists drawing as her principal skill and always wants to draw better. She regards her daughter as her best creation and is saddened only by the fact that it was made in co-authorship.
Kapilova has had 18 solo exhibitions in Belarus, Italy and Germany. Her work is held in museum collections and privately in Belarus, Germany, USA, Italy, Lithuania, Poland, Russia, the Netherlands and other countries.
* Borges, Jorge Luis (1962). "The Garden of Forking Paths". In Labyrinths: Selected Stories & Other Writings by Jorge Luis Borges (pp. 19–29). New York: New Directions. Translated by Donald A. Yates.
Information:
Daugavpils Mark Rothko Art Centre