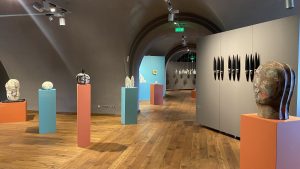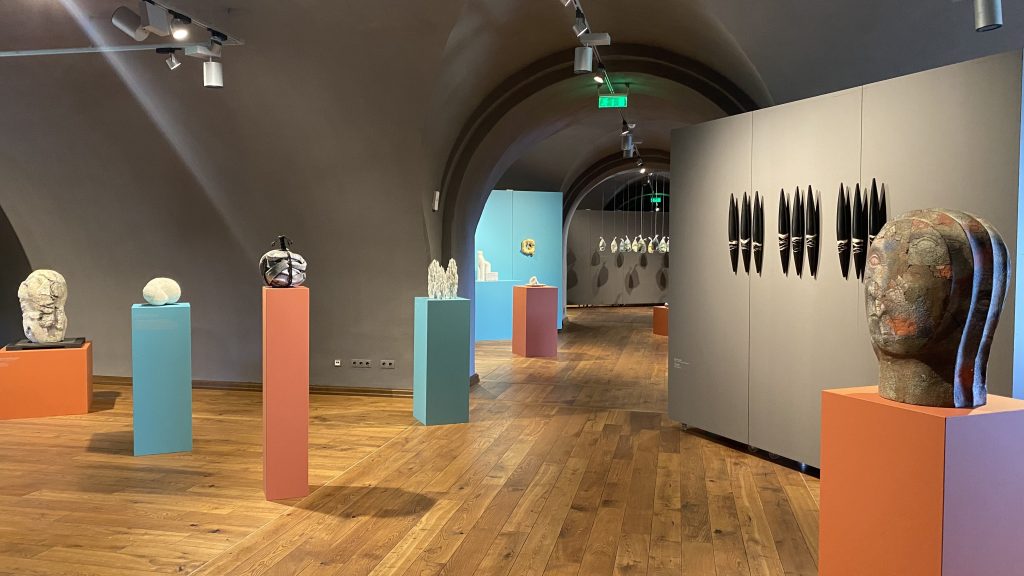 Date: 15.06.2021 - 17.10.2021
Time:
Place: Daugavpils Mark Rothko Art Centre, 3 Mihaila Street, Daugavpils
Martinsons Award 2021 is the international juried exhibition of the 3rd Latvia Ceramics Biennale, featuring artists from 38 countries. As the nucleus and pivot of the biennale programme, the exhibition commemorates one of the most brilliant and internationally renowned Latvian ceramic artists – Pēteris Martinsons (1931–2013). Daugavpils was his native city, and now it is home to a vast collection of his work. Towards the end of the year, the biennale will be followed by a truly momentous event – the opening of Pēteris Martinsons Memorial Home that will house a permanent exhibition of the artist's work.
Latvia Ceramics Biennale was instituted in 2016 and has always featured a dynamic series of events. Although it runs a little differently this year, without loud openings or vast public gatherings, the programme has retained its hallmark scale and quality. It stands a testament to the immense potential of Eastern and Northern Europe as regards contemporary ceramics and represents the ceramics domain worldwide as a field with the broadest and most incredible scope of opportunities. Alongside the habitual decorative objects and sculptural pieces, the exhibition also offers impressive spatial installations and performative works.
Out of nearly five hundred applications, an international jury picked the top 120 works from Latvia and other countries worldwide.
Participants:
Agnė Šemberaitė (LT), Agnes Husz (HU), Ágnes Nagy-György (HU), Agnese Sunepa (LV), Ainārs Rimicāns (LV), Aleksandrs Kašs (LV), Alicja Buławka-Fankidejska (PL), Alise Medina (LV), Anatolii Borodkin (LV), Andris Vēzis (LV), Antonie Eikemans (NL), Armands Jaspers (LV), Arta Baltā (LV), Astra Šēnberga (LV), Atis Šnēvelis (LV), Atsushi Kitahara (JP), Barnabás Máder (HU), Brian Benfer (US), Catalina Vial (CL), Catherine Schmid-Maybach (US), Christa Zeitlhofer (AT), Dace Grīnberga (LV), Dainis Lesiņš (LV), Dainis Pundurs (LV), Dalia Laučkaitė-Jakimavičienė (LT), Danijela Pičuljan (HR), Dawid Żynda (PL), Delia Maxim (DE/RO), Demet Iper Dicle (TR), Diana Butucariu (RO), Diāna Vernera (LV), Edina Andrási (HU), Egija Damberga (LV), Eglė Einikytė-Narkevičienė (LT), Ekaterina Sazonova (LV), Elena Manali (GR), Eleonora Pastare (LV), Elīna Titāne (LV), Elly Glossop (DK/UK), Enikő Kontor (HU), Erin Turkoglu (FI), Eva Tamas (LT), Fahimeh Heydari (IR), Giedra Petkevičiūtė (LT), Hanna Miadzvedzeva (BY), Harald Jegodzienski (LV), Heide Nonnenmacher (DE), Hennie Meyer (ZA), Ieva Jurka (LV), Ilona Abdulajeva (LV), Ilona Šauša (LV), Ilze Emse-Grīnberga (LV), Inese Brants (LV), Inese Līne (LV), Iren Tete (US), Irina Salmina (GE), Iwona Rozbiewska (PL), Jānis Leimanis (LV), Jiyoun Shim (KR), Joanna Opalska-Brzecka (PL), Jovana Čavorović (RS), Julia Batyrova (RU), Kai Zheng (CN), Katalin Revák (HU), Katerina Geiduka (LV), Kristin Andreassen (SE), Kristina Rutar (SI), Kristīne Zemļicka Brālēna (LV), Lautaro Valenzuela Arqueros (ES), Līga Skariņa (LV), Lilija Zeiļa (LV), Liudmila Krutikova (RU), Maira Karstā (LV), Maria Bezuglaya (RU), Maria Joanna Juchnowska (NO/PL), Māris Grosbahs (LV), Marta Palmieri (IT), Milena Pirštelienė (LT), Naho Yamashita (JP), Oleksandr Miroshnychenko (UA), Olga Melehina (LV), Olga Simonova (DE), Petra Benndorf (DE), Rasa Justaite-Geceviciene (LT), Roy Maayan & Erez Maayan (IL), Rūdis Pētersons (LV), Ruta Indriunaite (LT), Rytas Jakimavicius (LT), Salih Veysel Özel (TR), Sanita Ābelīte (LV), Shamai Gibsh (IL), Snjezana Pokos-Vujec (HR), Sofia Beça (PT), Srinia Chowdhury (IN), Stephanie Marie Roos (DE), Sukhburen Narankhuu (MN), Sunbin Lim (KR), Suzy Balkert (CH), Tatyana Eroshenko (RU), Theodora Tsirakoglou (GR), Umut Kambak (TR), Una Gura (LV), Valda Podkalne (LV), Velimir Vukicevic (RS), Viktória Maróti (HU), Vita Valdmane (LV), Vlad Basarab (RO), Weronika Lucińska (PL), Yoko Homareda (FR), Yulia Repina (RU), Yuriy Musatov (UA), Zahars Ze (LV), Žanete Žvīgure (LV), Zsófia Karsai (HU)
Martinsons Award 2021 is organised by Daugavpils Mark Rothko Art Centre in cooperation with Latvian Centre for Contemporary Ceramics.
Information:
Daugavpils Mark Rothko Art Centre