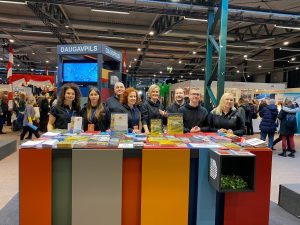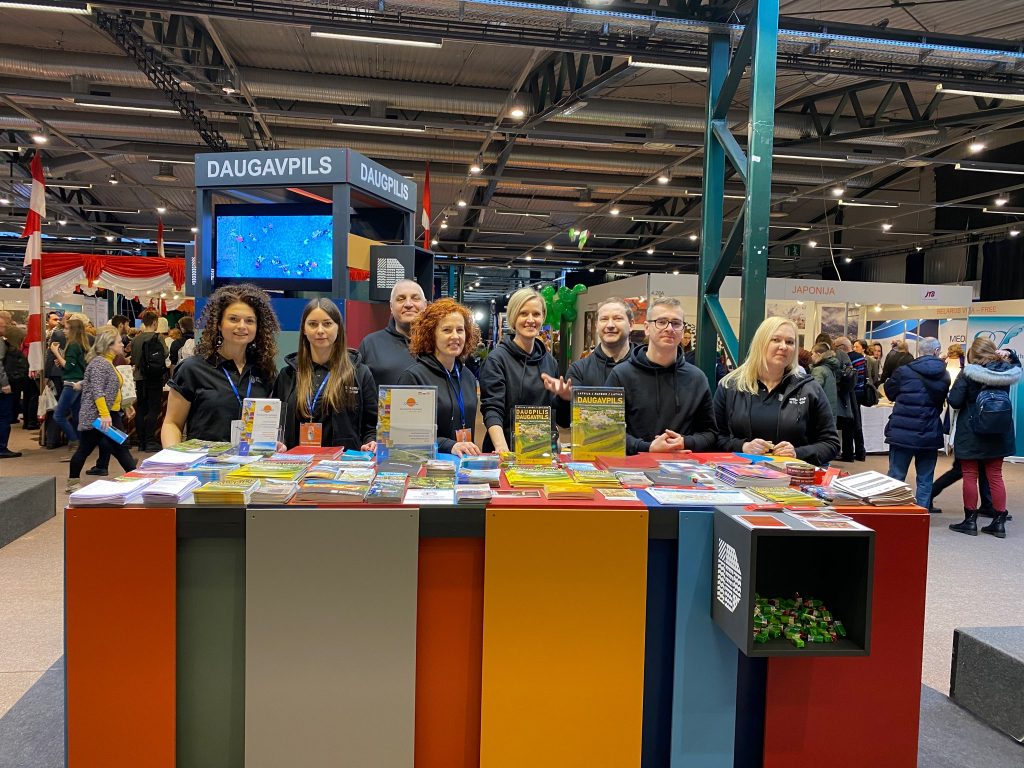 This year on 26th January at the Vilnius Exhibition complex "Litexpo" has passed the annual Lithuanian tourism exhibition "Adventur 2020", bringing together representatives of both the local and foreign tourism industries. "Adventur" is the largest annual event in the Lithuanian tourism sector. Specialists of Daugavpils Municipal Tourism Development and Information Agency had attended the largest annual event in the Lithuanian tourism sector and had been promoting the tourism opportunities of Daugavpils City in Vilnius for three days.
Agency's specialists had been working together with colleagues from Daugavpils District Tourism, Recreation and Culture Agency "TAKA", Daugavpils Mark Rotko Art Centre and Daugavpils Innovation Centre. Exhibition visitors have shown great interest in the tourism opportunities of Daugavpils, especially in such tourism objects as Daugavpils Fortress, Mark Rotko Art Centre, Latgale Zoo, Church Hill, Shmakovka Museum, Daugavpils Lead Shot Factory and others. Agency's specialists also observed a strong interest among exhibition visitors in major events and active recreational facilities, as well as in the recreation opportunities for families with children. A wide variety of information materials about Daugavpils City, Daugavpils District and Latgale region was available for the visitors of the Lithuanian tourism exhibition. The most needed materials among exhibition visitors were Daugavpils City map and Daugavpils Fortress tourism guide in Lithuanian, that were published by Daugavpils Municipal Tourism Development and Information Agency in the end of the previous year.
Many inhabitants of Vilnius expressed a strong desire to explore Daugavpils using a train running from Vilnius to Daugavpils at weekends.
It is significant to note that Daugavpils is a well-known travel destination for Lithuanians. Many exhibition visitors acknowledged that they are planning a trip to Daugavpils this year. Lithuanians are going to visit Daugavpils tourism objects, concerts and events such as City Festivals, Traditional Street Fairs on Rīgas Street and in Daugavpils Fortress, as well as the 6th International Festival of the Military Historical Reconstruction "Dinaburg 1812" and Marta's Ball. Inhabitants of Aukštaitija region, that is the nearest region to Latgale, regularly visit Daugavpils for shopping, developing business tourism in the city. Generally, the tourists combine shopping with city sightseeing and enjoying a meal in the restaurants and cafes of Daugavpils. Among exhibition visitors, there was also a large number of tourist guides and representatives of different tourism agencies, who were interested in group travel, accommodation and catering facilities in Daugavpils City.
On the second and third day of the exhibition representatives of Daugavpils City conducted a variety of attractive activities for the visitors of "Adventur 2020". Everyone who wanted took a part in the creative workshops organized in collaboration with Daugavpils Mark Rotko Arts Centre, while Daugavpils Innovation Centre surprised the exhibition visitors with unusual and exciting experiments.
This week Daugavpils Municipal Tourism Development and Information Agency keep right on promoting the tourism opportunities of Daugavpils in Rīga at the 27th International Tourism Fair "Balttour 2020", that will take place from 31st January to 2nd February at Ķīpsala International Exposition Centre.