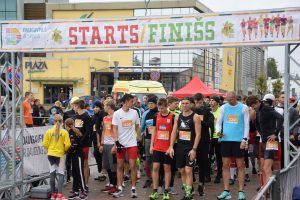 The race, which started in 1966 and carries a lot of history, events and sports, will be held this year for the 57th time on September 24 in Daugavpils Vienibas Square.
About 700 participants take part in the run every year. Among the runners are babies and children, adults and seniors. Latvian elite runners – Dmitrijs Seryogins, Dmitrijs Jurkevičs, Ilona Marhele – also liked the run. Among the participants are not only Daugavpils, but also representatives of various Latvian cities, runners from nearby countries, Lithuanians and Estonians.
This year, for the first time, the Mežciems race will be held as the Latvian Championship in the 5km highway race. As usual, there will also be a start in the 10km distance and the 5km Nordic walking. Each participant will receive a special race medal at the finish line. The winners of the first 3 places in the 5 km and 10 km distances will receive cash prizes in the overall ranking – 1st place – 100 EUR, 2nd place – 75 EUR, 3rd place – 50 EUR.
This year special attention is paid to children's sports. As part of the Mežciema run, there will be a Children's Morning from 10:00 a.m. to 12:00 p.m. As part of the children's morning, it will be possible to run 200m, 700m and 2000m distances, participate in a drawing competition and special master classes, watch a special concert program.
Registration for participation in the race is underway – www.sportlat.lv – https://www.sportlat.lv/sacensibas/1597/57-daugavpils-skrejiens-daugavpils-mezciems/registracija
Pre-registration until 22.09.2022. If you register in advance for the 5 km distance the participation fee is 3 EUR. Participation in children's races is free (200m, 700m, 2km). For a distance of 10 km, registration fee is EUR 7.
See you on September 24 in Daugavpils!
The run is organized by the Daugavpils Sports Administration in cooperation with the Latvian Athletics Union. The race is supported by Amber Studios, Speedway Club "Lokomotive", Dion Sportlab, Radio Alice Plus, EHR Media Group.