Cozy interior and home kitchen. Business lunch deals, banquettes.
A meal from the Daugavpils menu: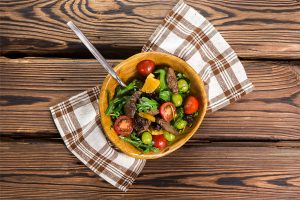 Salad "Country chic"
Chicken liver, oranges, grapes, tomatoes, etc.
The carriage of some tradesman who was en route in Dvinsk broke down. In the nearest house, the hospitable hosts helped him and allowed him to stay over. In consideration of this, the tradesman gave them a present – overseas fruits. The hostess prepared salad using them, its basic ingredient was a simple baked chicken liver.
Opening hours:
Every day 10 am – 10 pm