"Arsenāls" cafe is located in the Arsenal building of the Daugavpils Fortress – in Daugavpils Mark Rothko Art Centre.
"Arsenāls" cafe is open to provide for the great state of mind and delicious meals (will accommodate up to 60 visitors).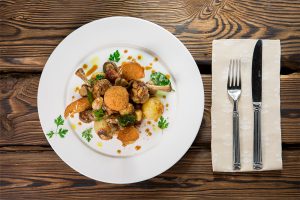 Main course "Poultry ragout"
Chicken leg, bacon, hazelnuts, kvass, mushrooms
A contemporary view of the recipe of the 16th century. According to the chronicles of that time, this dish was often cooked for the Polish King Stephen Batory. He was the one, who granted city rights to Dünaburg in 1582, and hereby facilitated its rapid development.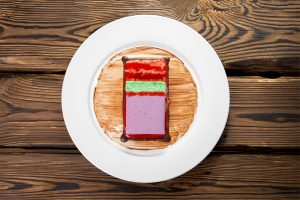 Dessert "Purple, Green and Red"
Mint biscuit, bilberry Panna Cotta, strawberry cream
While developing this dessert, the painting of expressionist Mark Rothko was the source of inspiration for the restaurant's chef. The painting was sold in 2014 at a private auction for 140 million euro.
Dessert is available on request.
Opening hours:
Every day 10 am – 10 pm