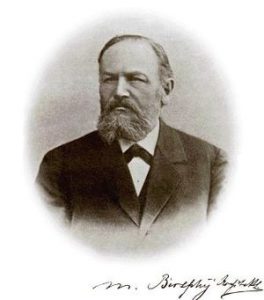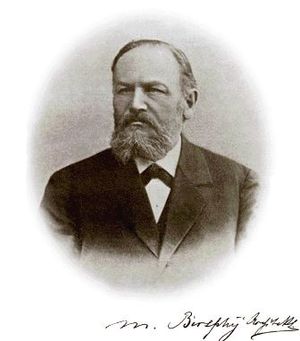 Architect (1840-1911).  Paul Max Bertschy was born on January 1 (14), 1840 in the city of Strausberg near Berlin (Germany) as the second of nine children in the family. Paul Max came from a carpenter family – his father, grandfather and great-grandfather were skilful carpenters. During the teenage years, he left Strausberg to study in a Berlin High School and gather practical experience. At this time in Berlin worked a group of new talented architects, among them there was a great competition and that is why Paul Max went to the east, where it was easier to go through everything. In the Baltic States there was a need for well-educated people who could contribute to economic growth.
From 1860 P.M. Bertschy worked as an architect in the office of H. Shels in Riga. In 1864 P.M. Bertschy accepted an invitation to move to Daugavpils, where he began to work in the office of Daugavpils-Vitebsk railway construction. With interruptions he works in this position until 1871. In Daugavpils his and his wife's Charlotte Katharina first son was born. During the period living in Daugavpils P.M. Bertschy in parallel with everyday technical work diligently tries to improve himself and find all types of orders – at that time it was a Catholic Church in Rokiski (Lithuania). In 1869 he got a degree of freelance artist in the Russian Academy of Arts in Saint Petersburg. From 1868 to 1871 under his guidance worked later familiar architect and art historian Wilhelm Neumann, to whom P.M. Bertschy gave recommendations concerning articles to the Russian Academy of Arts in Saint Petersburg.
From 1871 to 1902 P.M. Bertschy was an architect of Liepaja, and many major public buildings in the city and its surroundings were designed by him. At this time in Liepaja a number of construction orders of industrial and public character was rapidly growing. Wealthy businessmen and traders shifted their capital to building of luxurious mansions and villas. It gave an opportunity for the new architect to develop and fully express his diverse talent in both construction of public, cult buildings and private houses. His cognitions Bertschy on based courses of medieval art building. Romanesque and Gothic architectural forms are most common in his projects. Buildings designed by Bertschy were typically constructed from either red brick or using mixed materials – bricks and plaster or boulders and red bricks. With such the simple material Bertschy has managed to prove that a beautiful architectural form can also be attributed to industrial units. "In a brick style" is made the biggest part of buildings designed by him in Liepaja: a prison (1891), hospital (1887), factories, fire stations, warehouses, County Courthouses, dwelling houses. In a cultural Neo-renaissance style a Regional Court is created, the former Nikolai Gymnasium, in neo-Gothic – the current Liepaja History and Art Museum (1900), in classical – an institution of healing with medical clay (1902).
P.M. Bertschy also designed buildings in other Latvian regions: the Lutheran Church in Cesvaine (1879), residential buildings in Priekule and Skaistkalne (1893).
Two of the sons of Bertschy – Max and Guido, followed in his father's footsteps and became architects.
P.M. Bertschy died on February 1, 1911 in Liepaja, buried in Liepaja Old Cemetery.
In 2011 in Riga the monograph "Bertschy" of Imants Lancmanis and Angelika Bertschy which was dedicated to the architect.
Connection with Daugavpils:
He worked in Daugavpils (1869-1871).