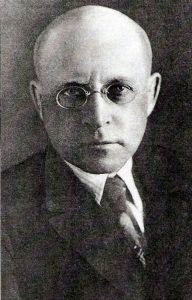 Writer Leonid Dobychin was born on 5 (17) July 1894 in Lyutsin (nowadays Ludza) to the family of the district doctor, who soon was transferred to Dvinsk (Daugavpils). He studied in Dvinsk Modern School. In 1911 he entered Petrograd Polytechnical University and graduated it in 1916. In 1918 moved to Bryansk. He worked as a teacher and a statistician. Later moved to Leningrad.
Leonid Dobychin made his debut in 1924 with his stories in Leningrad magazine "Russkiy Sovremennik". His story collections "Vstrechi s Liz" (Encounters with Liz, 1927), "Portret" (The portrait, 1931) portray the clash of the former world with post-revolutionary reality; novels exemplify anti-psychologism, lyric implication. In his last lifetime book – novel "Gorod En" (The town of N), the narration is about hero's memories about the city of his childhood – Dvinsk. The book served as a reason for author's criticism in literary debates "About the fight against formalism and naturalism" in Leningrad in the end of March and in the beginning of April 1936. After the stormy meeting of the Leningrad Writers' Union on 25 March 1936, in the middle of discussion Dobychin disappeared. It is presumed that he committed suicide, although this fact is not proved documentally.
Since 1991 in Daugavpils, in local State Pedagogical Institute are held Dobychin's readings. In 2011 it was already a 10th event. Collections of readings are published in separate editions.
In 2012 in Orthodox Cemetery there was unveiled symbolic monument devoted to Leonid Dobychin. The monument was erected next to the grave of writer's father.