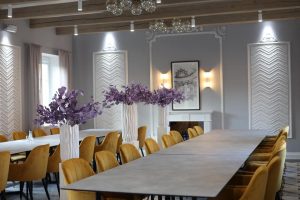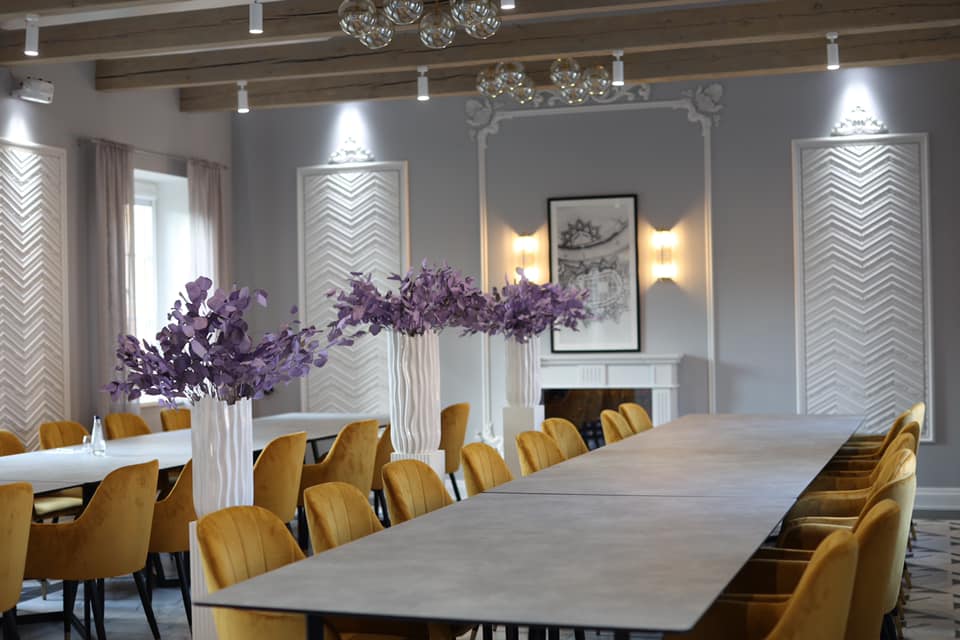 A new conference hall called "Konferenču zāle 13" was opened in Daugavpils Fortress, one of the most popular sightseeing places in Daugavpils city, this summer. This venue is suitable for both local and international conferences, seminars and other corporate events.
Daugavpils city offers many opportunities for business travellers. The spacious, modern, comfortable and well-equipped conference rooms are ideal for meetings, conferences, trainings, seminars, exhibitions and other events. In addition, there is a wide range of accommodation options to stay during a multi-day trip to Daugavpils. Most of the conference and seminar venues are located in the city centre or nearby. This is a great advantage and opens up opportunities for sightseeing in the city, combining a business trip with a cultural program.
Conference hall "Konferenču zāle 13" is a comfortable and multifunctional space, its atmosphere will definitely inspire with new ideas and solutions. The conference room is equipped with air conditioning and a large TV for showing presentations, videos, images and other materials. Guests can have access to a fully equipped kitchen. In front of the entrance to the conference hall, there is a terrace with a seating area. The seating arrangement can be easily adapted to the needs of the event and the number of people at the conference hall. The hall will comfortably accommodate about 33 people.
Conference hall "Konferenču zāle 13" is located 3.5 km away from the historical centre of Daugavpils. There are many tourist attractions close to the conference hall such as Daugavpils Fortress Culture and Information Centre and "Nikolaja vārti (Durvis pagātnē)" Historical Exposition of the Daugavpils Fortress, Daugavpils Mark Rothko Art Centre, exposition "Baltais zirgs" and "Atmiņu lāde", Bat Centre, World War I Museum, Medical Exhibition with an Exposition of Birth Control Items, exposition no retro cars "RetroGaraž-D" and others.
The conference hall is located at 13 Mihaila Street, Daugavpils. The hall for events can be booked by phone: +371 26784773, e-mail: alina.vorosena@gmail.com or by contacting on Facebook.
More information about conference and seminar rooms in Daugavpils can be found on the page – www.visitdaugavpils.lv.
Photos: Facebook.com