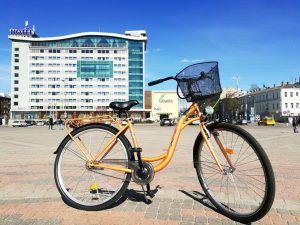 Bicycle and e-scooter rental service is available for fans of the outdoor activities in Daugavpils.
Residents and guests of Daugavpils have a choice whether to ride around city for a few hours or to take a long trip even for a whole day.
Bicycle rental service prices:
1 hour – 2.50 EUR
1 day (8 am – 9 pm) – 8 EUR
The latest model of e-scooter or Ninebot KickScooter by Segway ES2 is also available for rent. It can reach the speed of up to 25 km/h and can work for 45 km without any additional battery charge. The scooter has a headlamp and backlight, so it is safe during the night time. Protective helmet and additional knee and elbow pads for children are available.
E-scooter rental service prices:
30 minutes – 6 EUR
60 minutes – 10 EUR
1 day (8 am – 9 pm) – 25 EUR
Information on the availability of electric scooters can be obtained at the reservation desk of the Park Hotel Latgola (Ģimnāzijas street 46, Daugavpils) by phone +371 65404900. Detailed information about electric scooters rental service – info@escooter.lv.