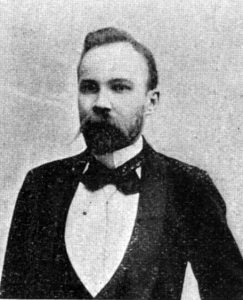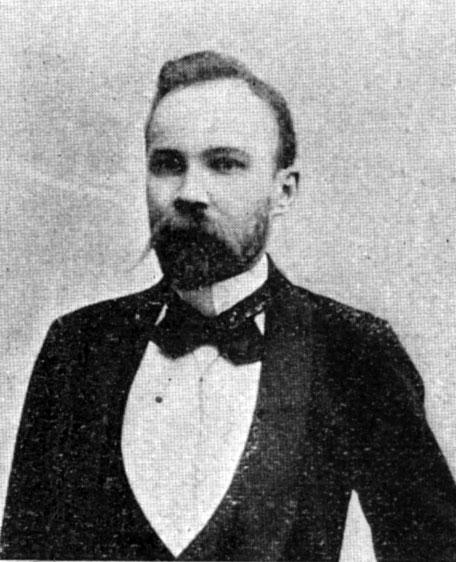 The prominent Latvian painter and graphic artist Rihards Karlis Valdemars Zarins (1869 – 1939) studied in the present J. Rainis Daugavpils Secondary School No. 6. He created symbols that are depicted in Latvian euro coins – the portrait of Latvian girl and the coat of arms of Latvian Republic.
Facts
Rihards Zarins graduated Griva German School with honours in 1886. Nowadays there is J. Rainis Daugavpils Secondary School No. 6.
Until 1919 Rihards Zarins worked in the Russian Imperial Printing Office and drew sketches for banknotes, coins, as well as securities, posters, diplomas, congratulations and postage stamps.
In 1919 Richard Zarins assumed the responsibilities of arrangement and management of the Latvian Government Printing Office, where he was the manager for many years (1919 – 1933).
Rihards Zarins developed a graphic design of the famous five lats silver coin. World coin collectors still consider that this is one of the most beautiful coins in the world. The model for the coin was Zelma Brauere (1900 – 1977), the senior proofreader of the Latvian Government Printing Office.
Rihards Zarins designed the large Latvian national coat of arms, which was approved in 1921 and restored in 1993.
The artist created 28 original drawings of Latvian stamps.
Rihards Zarins participated in the drafting of "Latvian Ornaments" (3 volumes) (1924 – 1931), that has a huge importance in understanding of Latvian folk applied art.
Rihards Karlis Valdemars Zarins (Zarrins) was born on 27 June 1869 in Valmiera district Vilkenu municipality in family of Kiegelu manor manager. His father was Latvian and mother was German. Several years later father moved to work to Ligatne where little Rihards started to attend school. Already in his early childhood his father noticed that Rihards was trying to depict different things on paper, that's why he pushed his little son to drawing. Around 1877 Zarini family settled in environs of Grivas where the father started his work in a manor. In 1886 Rihards Zarins at the age of 18 graduated with honours Griva German School (Now Daugavpils  Secondary School of Rainis No.6) and entered Stiglica Central Technical Art School in Petersburg. Initially he specialized there in xylography, later in etching under the guidance of famous expert in reproduction graphics Vasiliy Mate. While studying in Stiglica School R.Zarins started to collect the materials about Latvian national ornaments. Later this hobby became the life-work of the painter. Alongside the studies R.Zarins participated in "Rukis" – youth hobby group of Latvians studying in Petersburg.
In 1895 R. Zarins graduated Stiglica School and received a scholarship to enrich his knowledge and education abroad. He studied under the guidance of the eminent masters of graphics in Berlin, Munich, Paris and Vienna (1896-1899). In Vienna R. Zarins got acquainted with a girl of Swedish origin, a singing-student Eva Sundblad, to whom he dedicated his first bookmark and who later became his wife, giving a birth to his four children. In 1899 he returned to Petersburg and started to work as a painter in printing-house of Russian state-papers, later he became its technical director and held this post until 1919. He drew sketches for banknotes, coins, securities, posters, diplomas, greeting cards, stamps (series of portraits of tsar  Romanovs' dynasty (1913), series "To widows and orphans" (1914), unfinished series "Liberation of Russia" (1918). In 2001 in the result of inquiry organized by philatelists in Russia the best Russian postage stamp was approved the stamp "Saint George of Lydda" created by R. Zarins in 1914. Simultaneously with his main work Rihards Zarins took active participation in of Latvian art's promotion group, illustrated Latvian press and books, collected ethnographic materials, participated in exhibitions of Latvian painters.
In 1919 R. Zarins returned to Latvia and became the administrator of state-papers printing house in just established Republic of Latvia. He held this post in period from 1919 till 1933. He created graphic design for national securities, coins of lats and santims, diplomas and postage stamps. The most prominent achievement in this sphere is 5-lats coin (also known as "Milda") created in National Romanticism style. Together with Vilis Krumins he created the image of the coat of arms of the Republic of Latvia.
Rihards Zarins also worked as a pedagogue conducting graphic workshop in Academy of Arts (1921-1938) and from 1926 until 1932 – ethnography and Latvian ornament. He also was engaged in easel graphics, began the tradition of exlibris in Latvian graphics. R.Zarins is the author of cover of the first edition of first volume of "Latvju dainas" (Latvian folksongs). He also created etchings ("Dzejnieka kaps"), lithographies, promotional posters, illustrated tales, drew caricatures, water-coloured, compiled collection "Latvju raksti" in three volumes (1924-1931) that has a huge importance in study about Latvian national applied arts. In creative works of R. Zarins there is also prominent cycle of etchings "Ko Latvijas meži šalc" (1908-1911) that was created on the basis of Latvian tales.
R.Zarins was awarded Order of the Three Stars of the 3rd class (1926) and Sweden Order of Vasa.
Rihards Zarins died on 21 April 1939 in Riga and was buried in Meza cemetery.
Original graphics of Rihards Zarins are kept in Latvian National Museum of Art and in Artists' Union Museum in Riga, in the Russian Museum and Academy of Arts in Saint Petersburg as well as in private collections.
In Daugavpils Secondary School of Rainis No.6 there is placed a memorial plate in honour of R.Zarins, in the museum of the school may be visited the exhibition devoted to the painter.