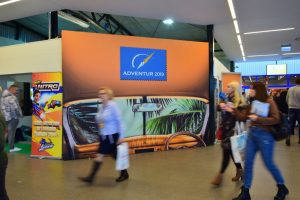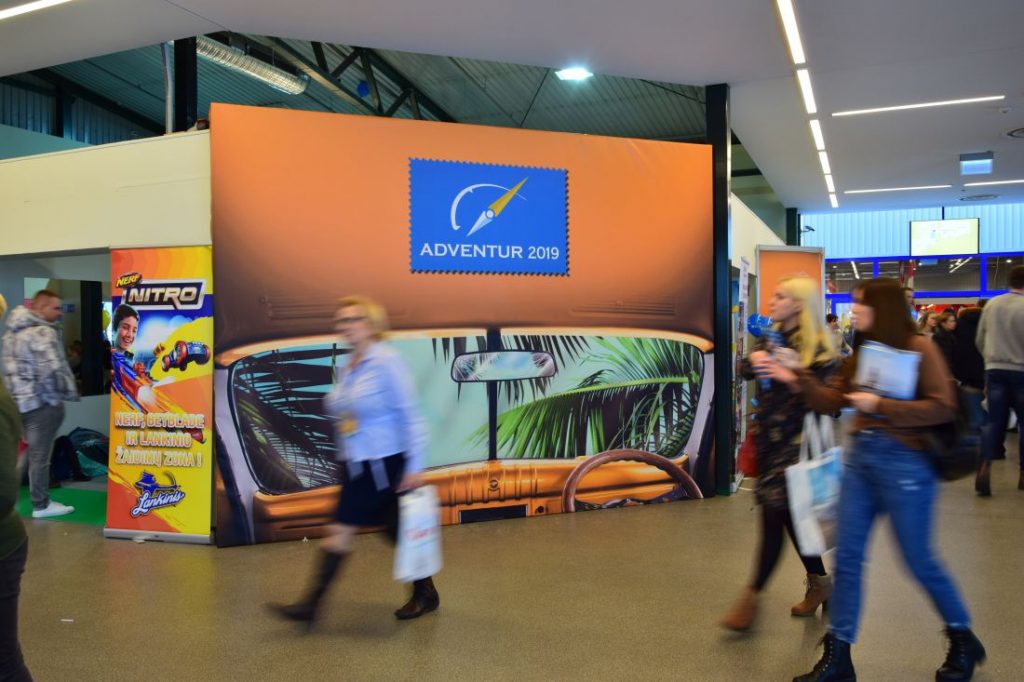 On January 27th, Lithuanian tourism exhibition "Adventur 2019" was concluded at Vilnius Exhibition Centre "Litexpo". It was attended by specialists of Daugavpils City Municipality Tourism Development and Information Agency, who together with representatives of Latgale Region Tourism Association "Ezerzeme", colleagues from Daugavpils District and Daugavpils Mark Rothko Art Centre worked on the Daugavpils exhibition stall in order to popularise the wide tourism offer of Daugavpils and Latgale region.
The exhibition was widely attended. Lithuanians were attracted by the elegant exhibition stall of Daugavpils. Tourism materials about Latgale region, Daugavpils city and Daugavpils region were available at the stall. Marketing materials about tourism opportunities in Daugavpils in Lithuanian were very demanded. While preparing for the exhibition, practical information in Lithuanian about the most popular sights in the town, tours for the tourist groups, the location of the Tourist Information Centre and the biggest events to be held this year in Daugavpils was prepared.
Visitors of the exhibition were interested into how to spend one or two days in Daugavpils city, what to see, where to have a meal and where to stay overnight. There was also an interest in Daugavpils culinary tourism offer and the biggest events in the city this year. The most frequently asked questions were about Daugavpils Fortress, Daugavpils Mark Rothko Art Centre, Latgale Zoo and Curiosity Centre "Daugavpils Zinoo", as well about active recreation opportunities in Daugavpils.
On the second day of the exhibition, January 26th, there were various activities for children together with the Curiosity Centre "ZINOO" at Daugavpils exhibition stall. On January 27th, the Daugavpils Mark Rothko Art Centre invited visitors to involve in a graphics workshop, where everybody could create his or her own postcard with the Daugavpils logo.
Visitors had the opportunity to receive discount coupons prepared by the "Tarzans" Adventure Park. The visitors of the stall were able to participate in the quiz and win gift cards and souvenirs made by partners "Park Hotel Latgola" ***, Daugavpils Bat Centre and Shmakovka Museum, as well as books published by Daugavpils regional researcher and director of "Jews in Daugavpils and Latgale" Museum Josif Ročko.
The exhibition "Adventur 2019" is the biggest event of the year in the Lithuanian tourism industry, which gathers representatives of both – domestic and foreign tourism industries. More than 12,000 people attend the exhibition every year, mostly the final consumer.
Information prepared by:
Daugavpils City Municipality Tourism Development and Information Agency
Phone: +371 65422818; +371 26444810
E-mail: turisms@daugavpils.lv
Web: www.visitdaugavpils.lv
Facebook: www.facebook.com/Daugavpils.travel
www.facebook.com/Daugavpils.cietoksnis
www.facebook.com/SmakovkasMuzejs