"Irish Dublin Pub" is a recreation and entertainment complex which is located in the centre of Daugavpils on 10th Viestura Street.
Traditional Irish Bar offers more than 30 varieties of whiskey, 43 different kinds of beer, as well as a large selection of cocktails.
Traditional Irish and British meals can be found in Restaurant's menu, as well as some offers for vegetarians.
Musical evenings, as well as programs, accompanied by a DJ take place every Friday and Saturday from 20:00.
Live sports broadcasts are available on 24 TVs placed in the restaurant.
There is a billiard room available and the games such as pool, Russian billiard and snooker.
The complex features "Dimanta Bingo" and a gaming hall, therefore, persons under the age of 18 years are not allowed to enter the premises.
Please book your table by phone +371 29218671 in advance.
The meals from the Daugavpils menu: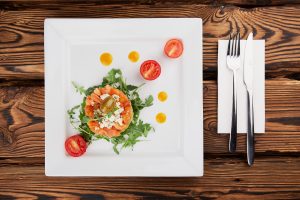 Low-salted salmon salad with some Dor Blue cheese
lightly salted salmon / rucola salad / orange / avocado / Dor Blue cheese / ginger-lemon sauce

The Daugava's richness in fish has been described in many books and praised in the oral folklore of fishermen. The big, up to 4.3 meters long Baltic sturgeons were already fished out in the late 19th century. There are testimonies of some fish caught also after the World War I. Yet salmon went up the Daugava's rapids till its upper course to their spawning grounds until unsurpassable obstacles – water-power plants – were built on the river. In the 1st half of the 20th century the tasty and fresh salmon was not anything unfamiliar and unknown in Daugavpils kitchens, it was a well-known and popular source of inspiration for creation of various culinary masterpieces.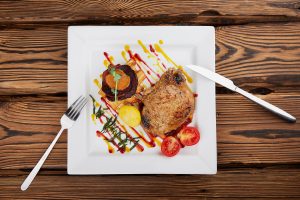 Roast pork on bone with local vegetables
pork / celery root / swede / parsnip / tomatoes / pickled squashes

Already in times when potatoes were brought from America to Europe and were not yet known in Latvia, but tomatoes were grown in flower beds and called "Love apples", roast pork in special seasoning was put on the table for very significant celebrations in the wealthiest houses near Daugavpils. The most favourite roast pieces were the ones of juicy meat with a bone so it was more convenient to take and devour the food. Various vegetables grown in the beds of the backyard garden were baked in the large oven in order to enrich the substantial meat meal. Thus the feast was prepared during "pre-potato" times.
.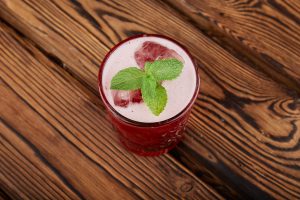 Cocktail "Latgale's vitamin bomb"
whiskey / sea buckthorn syrup / cranberry juice / lime juice

In ancient times when the Daugava–Volga watercourse was the most convenient transit channel for delivering goods to various distant Eastern and Western countries, many modish things of that time appeared in Daugavpils. From the West, barrels were delivered containing strong drink, similar to the local shmakovka, that had obtained pleasant shades of taste after being stored in oak barrels for a long time. From the East, buckthorn berries – a valuable treatment for all cases of life – were brought in. Thus the first globalized cocktail "Latgale's vitamin bomb" was created that contains whiskey from the West, buckthorn from the East, lime juice from the South, and cranberries from local swamps.
Opening hours:
00-24
On Friday and Saturday (from 6pm till 6am) the Client will be charged a deposit of 5 EUR for the entrance. The deposit amount will be subsequently deducted from the bill. Deposit can be used to book a table.