Main dishes, salads, pizzas, waffles, snacks, desserts.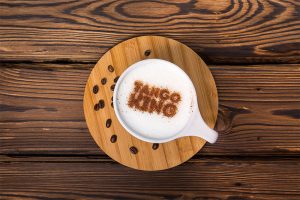 Coffee "Tango King"
Milk, latte, chili pepper, cinnamon
Native of Dünaburg, Tango King Oskar Strok was sometime the owner of a pub, in which the most aromatic coffee around was made. This recipe contains an ingredient, which makes this drink daring and exciting, like tango sounds. It can awaken the dying passion and leads you to the world of new emotions and serenity.
Opening hours:
Monday – Thursday: 9 am – 10 pm
Friday: 9 am – 11 pm
Saturday: 10 am – 11 pm
Sunday: 10 am – 10 pm
Photo: Pjotr Jevsejev