One of the most popular places for organizing weddings and banquets, and for daily visits. Restaurant "Dinaburg" is located on the "Good Stay Dinaburg" Hotel *** main floor. Open daily from 7 am till 11 pm. Capacity – up to 50 persons.
The restaurant menu is quite diverse – includes appetizers and soups, hot and cold appetizers, vegetarian dishes, as well as homemade desserts. For the youngest visitors of the restaurant there is a special children's menu.
On weekdays from 12 pm till 2 pm in the restaurant can be offered business lunch (4,00 EUR).
The restaurant can accommodate up to 200 people.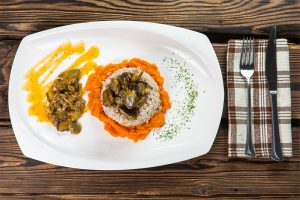 "Farmer's Treat"
Boiled pearl barley with mushroom and carrot puree
Way back, only the upper class was entitled to go fishing and hunting that is why the peasant's menu was simple to the limit: berries, mushrooms, fruits, vegetables and porridge. It was so nourishing and healthy, made of different crops, that it fed large families remaining the most popular food for centuries.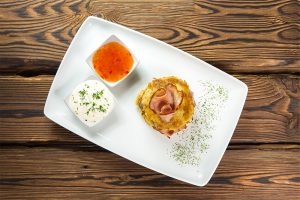 "Ancient tower à la Dünaburg"
Potato pancakes with bacon and horseradish sauce
The Major Preobrazhensky who served the Tsar Peter I in 1712 moved to Warsaw with an assignment. On his way, he was overtaken by a storm, and he had to stop in Dünaburg at the place of Captain Eremin. That evening, Captain's wife prepared and served up husband's favorite dish. Preobrazhensky was so impressed by the taste of this food that every time visiting his friend he asked to cook exactly this dish!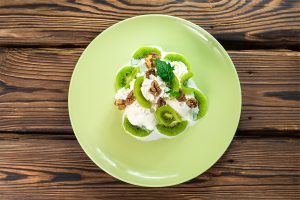 "Dünaburg castle ruins"
Ice cream, fruit and nuts
Master of the Livonian Order Ernst von Ratzeburg built a castle in the 13th century on the bank of Daugava River. It was given a name Dünaburg, according to the ancient name of Daugava, which was Düna. The castle was meant to defend lands and served as protection against unsought guests. Imagine this historical place, feel the spirit of the Middle Ages and perceive its taste…
Opening hours:
Every day 7 am – 11 pm