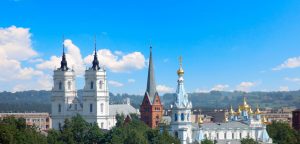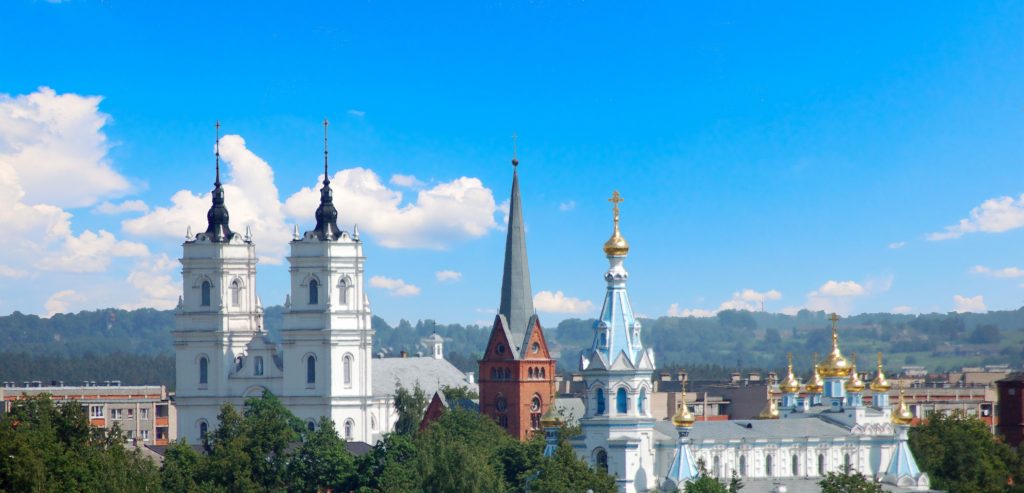 Each traveler who wants to get acquainted with Daugavpils should definitely visit the Church Hill that has gathered the churches of four different confessions. Daugavpils Church Hill is located a clear distance away from the city center, in Jaunbuve (newly erected building) neighborhood. This neighborhood was built in 1865 after the approval of the land-use plan for then named Dinaburg (one of the earlier names for the city of Daugavpils). At that time, Jaunbuve consisted mainly of one-storied wooden houses. At the end of 19th century, red brick buildings started to appear as well. At the turn of the century the population was beginning to grow. The congregations most of the religious denominations started to have more followers. The need for building churches appeared in this area. Martin Luther church was the first to be built in 1893. 1905 two more churches, the Daugavpils Roman Catholic Church of the Immaculate Conception and the Daugavpils Orthodox Cathedral of St Boris and Gleb, were built. In 1928, the House of Prayer of Daugavpils First Old Believer's Community appeared.
Due to its amount of sacral buildings the neighborhood was named Church Hill. Church Hill is a unique place in Daugavpils. Churches of all four main religious denominations in Latgale exist within a relatively small area. This complex creates a unique panorama of Daugavpils. The churches became not only the religious center of the Jaunbuve neighborhood, but also its architectonic dominant. The complex of buildings contributes to the city panorama with its diversity of architectural styles, from Baroque and Neo-gothic to the Byzantine style. During the century the churches survived different times and political powers. The sacral buildings were destroyed several times, but every time they were reconstructed.
The fact that churches of all four different religious denominations have existed for a century within a relatively small area proves the inheritance of deep and strong religious traditions, as well as cultural and historical values in Daugavpils.
Information about the Church hill has not been studied thoroughly; it is fragmentary and can be found in books, periodicals and home pages of different institutions. Latgale Central Library decided to summarize data about these four Daugavpils sacral historical monuments and develop an electronic resource "Daugavpils Church Hill".
The resource "Daugavpils Church Hill" was developed in the period from November 2013 to June 2014. The project was implemented by Latgale Central Library employees in collaboration with representatives of religious denominations and Daugavpils Regional and Art Museum.
The aim of the project was to summarize, systematize and make accessible to every Internet user the materials of Latgale Central Library; to promote society's interest in churches as an integral part of cultural and historical heritage, as well as to create an attractive cultural information resource. The resource is useful and handy material for everyone interested in the history of Daugavpils, students, religious believers of different religious denominations and tourists. The resource will promote cultural and historical values in Latvia and abroad.