"Irish Dublin Pub" is a recreation and entertainment complex which is located in the centre of Daugavpils on 10th Viestura Street.
Traditional Irish Bar offers more than 30 varieties of whiskey, 43 different kinds of beer, as well as a large selection of cocktails.
Traditional Irish and British meals can be found in Restaurant's menu, as well as some offers for vegetarians. Kitchen of the restaurant is open 24 hours a day.
Musical evenings, as well as programs, accompanied by a DJ take place every Friday and Saturday from 20:00.
Live sports broadcasts are available on 24 TVs placed in the restaurant.
There is a billiard room available and the games such as pool, Russian billiard and snooker.
The complex features "Dimanta Bingo" and a gaming hall, therefore, persons under the age of 18 years are not allowed to enter the premises.
Please book your table by phone +371 29218671 in advance.
The meals from the Daugavpils menu:
Vegetarian salad "Daugavpils' legal doping"
Avocado, cucumbers, cherry tomatoes, garden radish, lettuce, strawberries, bilberries, hemp caviar, olive oil
12 000 men worked hard to build Dünaburg fortress in 1810, 2000 of them came from the nearest villages. The soldiers noticed that many of local inhabitants eat bread with hemp butter after hard work. Thanks to the magic power of this butter, men became strong and were capable of great endurance, and the building never stopped!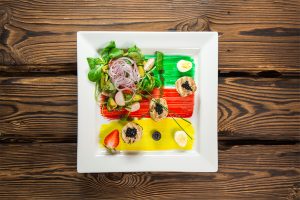 Main course "First chef-d'œuvre by little Markuss"
Chicken fillet, potatoes, zucchini, carrots, broccoli, cauliflower, lettuce, rosemary, thyme
Childhood impressions of 7 years old Mark Rothko were connected with Dvinsk in 1910. Picnics on the bank of Daugava with a ferryboat, carousels, fairs and sunsets over Daugava. The bright and juicy landscapes inspired the talented boy, and 40 years later, the world welcomed the first paintings of the world-known expressionist.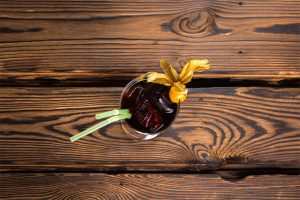 "The way home: Dublin – Riga – Daugavpils"
Poitin, Riga Black Balsam, cranberry water, blackcurrant syrup
According to the statistics, 0,5% people living in Ireland are nationals of Latvia. Still, every year our countrymen return to our homeland, including Daugavpils. We are waiting for you, welcome home!
Opening hours:
00-24
On Friday and Saturday (from 6pm till 6am) the Client will be charged a deposit of 5 EUR for the entrance. The deposit amount will be subsequently deducted from the bill. Deposit can be used to book a table.