Cakes, macaroons, cookies, pancakes.
A meal from the Daugavpils menu: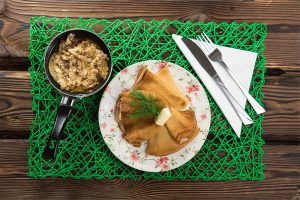 "Granny's pancakes"
Eggs, milk, flour, dairy butter, sugar, salt
Sauce: bacon, salt, pepper, sour cream, dairy butter
Pancakes with sour cream and fried speck from recipe of cafeteria owner's great grandmother. Heretofore, all family members gather around the large table, and the pile of thin pancakes stewed on warm towels disappear in a moment! By the way, people in village eat them with their hands and use no flatware! It is tastier then.
Opening hours:
Monday – Thursday: 10:00 – 19:00
Friday: 10:00 – 20:00
Saturday: 12:00 – 20:00
Sunday: 12:00 – 18:00