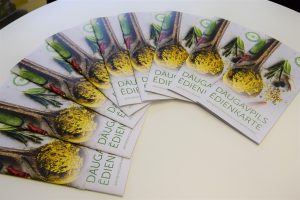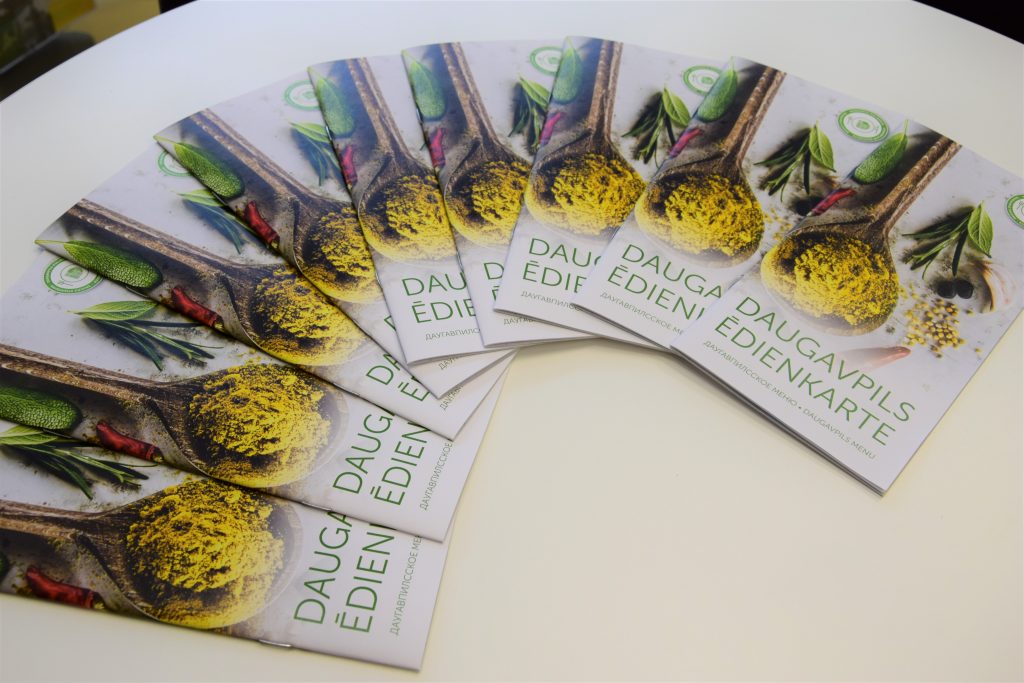 Daugavpils has its own special menu, which can be tasted only in Daugavpils. Daugavpils City Municipality Tourism Development and Information Agency cooperating with Daugavpils catering businesses made a renewed Daugavpils menu and have made a new booklet "Daugavpils menu", which offers special dishes.
Chefs of ten restaurants and cafes offers tasty and exquisite dishes and drinks. Each dish is unique on several aspects. Each dishes name is dedicated to Daugavpils and has its legend. Chefs have been inspired by the history facts and legends of Daugavpils City and also have taken into account nowadays food making tendencies. The legends tell about the favorite food of Stefan Batory, which in 1582 gave Daugavpils the city rights, about a chocolate which was used as a medicine in the Middle Ages and was tasted only by the Dukes of the Order and about tomatoes which in ancient times was called "Love apples". Each dish has its own legend and its connection to Daugavpils City. Worth to mention, in the names of several dishes the old names of Daugavpils City are used, like Dinaburg and Dvinsk.
Six restaurants and four cafes take place in the renewed project of the Daugavpils menu – restaurants "ArtHub", "Plaza", "Irish Dublin Pub", "SanMari", "Dinaburg", burger restaurant "The Dinaburger", cafes "Imbir", "Dvinskas sētā", "Arsenāls" un "Luna".
Restaurant "Art Hub" offers Dinaburg's dinner and tells about the visit of Russian Tsar Nicholas I to Dinaburg fortress in 1833. Restaurant "Plaza" offers warm salads with zander "Daugavas loki", eel tartar "Dvinsk fortress" and quails "Dubrovina". Worth to mention, Dubrovin Park is located in the historical center of Daugavpils City, it was established by Pavel Dubrovin in 1882, which was a mayor of Daugavpils at the time. The chefs of the restaurant "Irish Dublin Pub" will prepare a low salted salmon salad with some dor blue cheese and tell a story of 4,3 metres long fishes. Meanwhile, in a cafe "Imbir" gourmets will be greeted by grandmother's pancakes, but "Dvinskas sēta" will serve salads "Country Chic". The desert of real dukes can be found at the restaurant "San Mari". The restaurant "Arsenal", inspired by a painting of the great artist Mark Rothko, will greet its guests with the dessert "Purple, green and red". Restaurant "Dinaburg" offers to try tasty potato pancakes "Ancient tower à la Dünaburg" and also tasty and healthy porridge "Farmer's treat". Daugavpils has its own burger – "Dinaburger", which is offered by a burger restaurant of the same name. Cafe "Luna" offers a tasty coffee "Tango King", which is dedicated to a tango king Oskar Strok, who was born in Daugavpils.
The new brochure of Daugavpils menu is available at Daugavpils Tourism Information Centre at 22a Rigas Street, and also in its electronical version at tourism information center's official web page www.visitdaugavpils.lv. The brochure is available in three languages – Latvian, Russian and English.
Enjoy your meal!